The safety of your family and home are Paramount.
Paramount Chimney & Gutter Corp. is your trusted chimney expert with over 20 years experience. Our technicians are certified by the exclusive Chimney Safety Institute of America (CSIA), so you can be rest assured that your chimney will be functioning safely and efficiently upon completion of our services.
Every chimney sweep comes with a visual inspection. The company also offers a 12-point comprehensive Fire & Safety inspection.
When it comes to repairing and maintaining your wood-burning fireplace, gas or oil furnace chimney, we are professional and expertly skilled. Whether you need your gutters cleared, your chimney swept or your dryer vent cleaned, your home repair needs will be in good hands with Paramount Chimney & Gutter, Corp.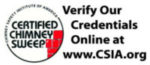 ---
Excellent work at excellent price. Would hire again.Central Islip, NY Homeowner
Very nice,professional guys. They cleaned both my chimney and gutters and did a great job.E. Northport, NY Homeowner